Check back here for updates once the trip gets underway from the 14th July 2018.
The team are carrying a satellite tracker with them and you can follow their progress by clicking here.
Day 1 and 2

A great start to the trip with everyone ready and raring to go at Heathrow. The airline staff have been really helpful and sent us on our way.
After our 11 hour flight we had a long stop over in Bogota. To pass the time we have been playing Uno and drinking World Cup Coke in the airport lounge. We reckon we've collectively drunk 100 Cokes! Claire made sure the Jolters had a world record 1h 58m game of magnetic ludo.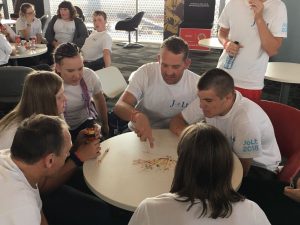 We arrived in Lima airport and it was our busiest transfer yet – so many people and new things to look at! We were all mega thirsty after the second flight and were relieved to see Andy and Marcelle come back with a big bag of cold drinks for everyone.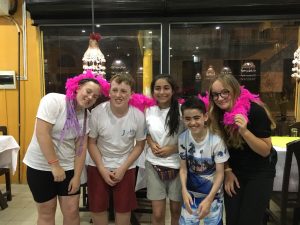 Our final flight was quite short. Iquitos airport was tiny compared to the big international ones we'd through already. We were glad to see our bus right outside and all piled in, then on our way to our hotel for the night. After sorting our drinking water everyone was super excited to go to bed after two days travelling. Really looking forward to seeing what Iquitos is like in the morning.
Day 3
We all had a long and refreshing sleep in our hostel, with everyone very relieved that the rooms had fans or air conditioning- what a luxury!
Breakfast went down really well after two days of plane food. After breakfast we met our local guides and head of the community we will be staying with. Everyone enjoyed the walk through Iquitos; Anakin was amazed by all the new smells and we all enjoyed spotting our first wooden bus.
We arrived at the Iquitos museum in good spirits. Our tour guide gave us the low down on local culture, history and environment. After this we headed over to the local outdoor pool which were lucky to get to ourselves. Seren, Isha, Ella, Eli and Charlie all had a diving lesson from Andy and made some epic dives into the pool. And Katie managed to finally push Buzza into the pool!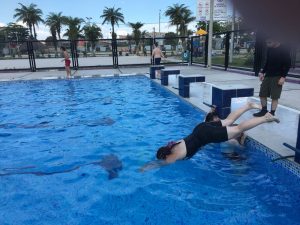 After our afternoon swim it was back through the city to our hotel and out to get our overnight bags ready for our trip down the Amazon and Napos rivers.
Awards for the day went to Anakin for The Helping Hand and the Fabulous award was for the amazing divers. To celebrate we had a huge dinner at a local restaurant where we sampled the local fish, chicken and alligator meat!
Day 4-6

The team have arrived in Ecuador after the long trip down the Amazon. We should be in wifi range on Sunday so we will have a full update then!