Check back here for updates once the trip gets underway from the 14th July 2018.
The team are carrying a satellite tracker with them and you can follow their progress by clicking here.
Day 1 and 2

A great start to the trip with everyone ready and raring to go at Heathrow. The airline staff have been really helpful and sent us on our way.
After our 11 hour flight we had a long stop over in Bogota. To pass the time we have been playing Uno and drinking World Cup Coke in the airport lounge. We reckon we've collectively drunk 100 Cokes! Claire made sure the Jolters had a world record 1h 58m game of magnetic ludo.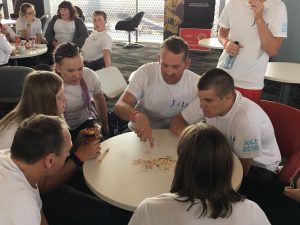 We arrived in Lima airport and it was our busiest transfer yet – so many people and new things to look at! We were all mega thirsty after the second flight and were relieved to see Andy and Marcelle come back with a big bag of cold drinks for everyone.

Our final flight was quite short. Iquitos airport was tiny compared to the big international ones we'd been through already. We were glad to see our bus right outside and all piled in, then on our way to our hotel for the night. After sorting our drinking water everyone was super excited to go to bed after two days travelling. Really looking forward to seeing what Iquitos is like in the morning.
Day 3
We all had a long and refreshing sleep in our hostel, with everyone very relieved that the rooms had fans or air conditioning- what a luxury!
Breakfast went down really well after two days of plane food. After breakfast we met our local guides and head of the community we will be staying with. Everyone enjoyed the walk through Iquitos; Anakin was amazed by all the new smells and we all enjoyed spotting our first wooden bus.
We arrived at the Iquitos museum in good spirits. Our tour guide gave us the low down on local culture, history and environment. After this we headed over to the local outdoor pool which were lucky to get to ourselves. Seren, Isha, Ella, Eli and Charlie all had a diving lesson from Andy and made some epic dives into the pool. And Katie managed to finally push Buzza into the pool!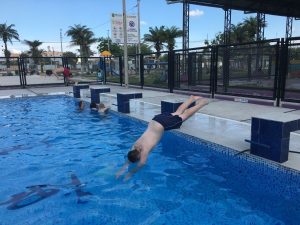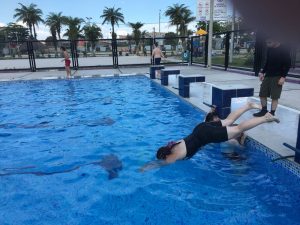 After our afternoon swim it was back through the city to our hotel and out to get our overnight bags ready for our trip down the Amazon and Napos rivers.
Awards for the day went to Anakin for The Helping Hand and the Fabulous award was for the amazing divers. To celebrate we had a huge dinner at a local restaurant where we sampled the local fish, chicken and alligator meat!
Day 4

Today we met our guides from the Sachs Nampi community, then left Iquitos and headed to the small river side town of St Clotide. As we started our journey in a small river boat along the Amazon, it was amazing to get our very first glimpse of the Amazon rainforest.
We changed boats on the River Napo after having landed at a small port village. We took a 'two to a tuc-tuc' across to the bigger boat for our onwards journey. Everyone had an awesome time as our tuc-tuc drivers decided to have a race, leaving Charlie and Rachel behind with their super safe (but slow) driver! Despite the racing everyone survived in one piece.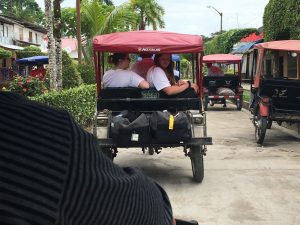 We then piled aboard the big boat belonging to the Sacha Nampi community and started the long journey to St Clotide. During the journey the Jolters kept themselves entertained with some epic singing and joking on the boat.
It was dark by the time we arrived, there was a fantastic team effort to get all the bags from the boat to our hostel using our favourite bag chain method.
After a dinner of chicken and rice we all fell into bed to get ready for a second day of travelling down the river.
Day 5
We had a very very early rise today having been woken up by a very over-enthusiastic cockerel, so we were on the boat for 5:30 start!!! Everyone managed really well, and several had a power nap to catch up on some sleep.
The highlight of our journey was our first wildlife spot. We saw first grey and then pink dolphins! We were all so excited to see them we rushed to one side to catch a glimpse, and the captain had to remind everyone of the importance of balance in a boat! It was amazing to see how the pink dolphins rolled out of the water to show us their fins and pinky colour.
Our guides stopped the boat to buy buffalo cheese to try which was gorgeous. After a few more hours on the boat we arrived at Sacha Nampi and after a wonderful dinner of fresh fish (complete with the head and eyes) a local dance group came to welcome us to the village. Eli and Anakin showed off their dance moves and Katie admired girls leaf skirts.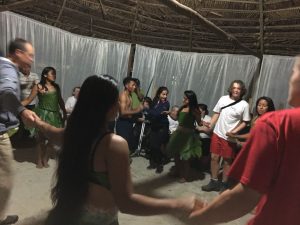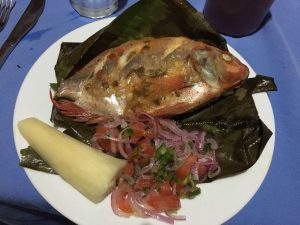 We then headed for a much earned rest in our jungle beds in the wooden huts with thatched leaf roofs.
Day 6
Today was our first full day in the jungle! After breakfast we headed off on a jungle trek. We were exited to try our new wheelchair and carry seat skills on this challenging terrain. Everybody got prepared for the mud and bugs with wellies and mozzi spray. The ground was verrrrrrry muddy, Mollie surprised herself when her crutch got sucked almost into the jungle floor when she tried to pull it out of the mud. And Thea managed to successfully foot ski down a muddy bank without loosing her balance once.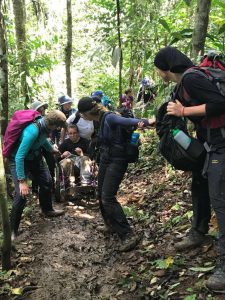 We spotted a woodpecker and a beautiful leaf colour frog that you could hardly see as it was so well camouflaged. We were all super proud of ourselves having completed our first Jolt challenge all together and with such success.
In the afternoon we headed to a neighbouring village to see the traditional traps and hunting. On the way we were all very exited to find an ENORMOUS tree, and then managed to create a ring around its base – it took 26 people it was so huge! Andy gave us all a quick geography lesson on the layers of the rainforest and the role of the awesome tree. We then had the chance to taste a cooked jungle worm – Dan, Chantelle, Ella and Matthew all gave this a whirl – very brave!!!
After this it was time to head back to our village for some tea and our first Jolt time. We reflected on our first few days and everything we have to look forward to coming up.
Day 7
Today was all about flexibility and dealing with changes to our plans as the rainforest lived up to its name and delivered us a truly spectacular deluge of warm rain. After many shifts in programme, which everyone coped with amazingly well, we headed out to an large lagoon for some piranha fishing and wildlife spotting.
Yasmina was first to spot the water snake swimming across the river just before the lagoon, it was incredible to see how it moved so quickly but we were glad it was well away from our boat when we learnt how poisonous it was!
Our next big spot was the otters who were playing at the side of the river. We then headed right into the lagoon to try our hand at fishing. All the Jolters had a good go but we were doing more feeding than fishing – it was the piranhas lucky day. We all got to see a piranha close up after one of the guides caught one, it was incredible to see the sharp teeth and strong jaw in action!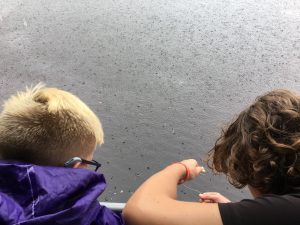 Next up was back to the community for lunch then to learn about the local craft. We saw how fibre from a leaf was turned into bags and hammocks. We all got chance to make a bracelet to bring home and keep, Rebecca even turned hers into a collar for her dog.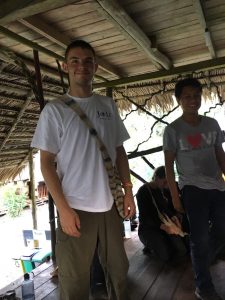 We then turned our hands to chocolate making, taking turns in roasting the cocoa beans – Matthew O'L was complimented on his toast stirring technique by our guide. Then we all helped to peel the beans and put them through the grinder; the JoLters did a fantastic job keeping each other turning the handle with their singing and chanting. Conor managed to get the handle turning at a terrific pace, nearly finishing off all the beans!!!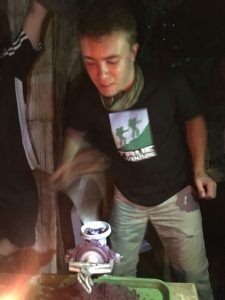 We completed our day of experiencing the local culture with a visit from a local Shaman and watched a traditional blessing ritual being performed. Everybody had lots of interesting questions for the Shaman to understand his culture and beliefs – a really interesting experience. At the end Seren and Charlie gave our gifts to to the local guides who had helped us so much and welcomed us so warmly into their community.
Day 8
Today was another travel day, so we got back onboard our boat and headed back up the River Napo to the big town of Coca. As we got closer to the city we saw more and more large river ships carrying oil to and fro.
Once in Coca, and after Ali carefully counted all the bags off the boat, we said our very final farewells to the Sacha Nampi guides and boarded our bus which took us all the way to Archidona.
We had a fantastic bus journey because we finally managed to get our play list going. Everybody joined in with their favourite songs and Anakin led a few rounds of our best chants.
We arrive at our hotel in Archidona just in time for tea. We were all totally stunned by our accommodation! It was beautiful – since the recce a pool and the nicest cabins we've ever seen had been built, and only just finished! Isha and Ella reckoned it was the nicest place they'd ever stayed in! The food was equally stunning and Ali particularly enjoyed his late night coffee!!!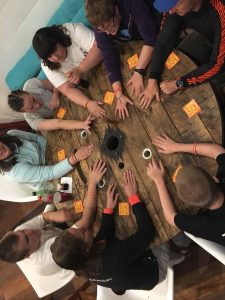 After a long day travelling and such comfortable beds to go to, none of us could wait to snuggle down to sleep!
Day 9, by Isha and Katie
Started the day with the boys wakened with the sound of a kazoo and the girls a much quieter approach. Breakfast was great best so far – you can't go wrong with sausage, egg, pancakes, bacon and fruit! Getting ready for the day ahead meant getting our bags, helmets and buoyancy aids all sorted. And with that we set off for a canyon in Cando.
The first half of our challenging trek was very tricky for many people. Canes, hearing aids, braces and wheelchairs were left behind or barely used! Molly was determined to complete the whole trek without her chair, which she managed with style and a smile. The whole team provided lots of encouragement and support for everybody facing their personal challenges.
The leaders were very enthusiastic and supportive of everyone. All in all we reached our target destination- a beautiful waterfall where we found a seat for a big group photo which will keep our amazing day in our memories forever.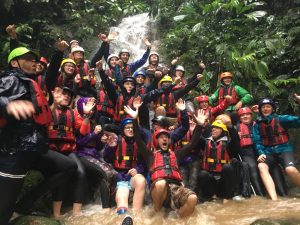 As a final splash for the day we rolled off the edge of a mini waterfall into the plunge pool below; Matt O'L made the roll without evening knowing how big the drop was. And for this he won the brave lion award!

After all of this we headed to a view point to see the super full river after a night of heavy rainfall. To finish up our incredible day we chilled, swam in the surprise pool and then showered. Some of us even bought a hot chocolate to wind down after our busy busy day!
Day 10
We were sad to leave Archidona after the wonderful time we'd had and the luxurious accommodation, but we were also excited to see what Quito had in store for us.
So it was back on the bus – early on our driver showed us his safe driving skills when he negotiated a small land slip across the road. We had a great time singing a long with our song booklets for the first time – Charlie particularly enjoyed the ABBA number.
We arrived in Quito for a late lunch. Our new hostel was spot on, and even has hot showers! We then headed into town for some postcard shopping and ice cream. Everyone noticed how different in atmosphere Quito is to Iquitos where we started off.
For tea the leaders decided to mix it up a bit and so off we went to a burger bar. While waiting for our food we played multi-coloured jenga and tried to build the tallest tower- Matthew W and Katie managed the highest! Dan tried the veggie burger and Abi had a beer burger – we're still not entirely sure what the beer burger meant! Everybody was very full by the end of the meal and thoroughly ready for bed!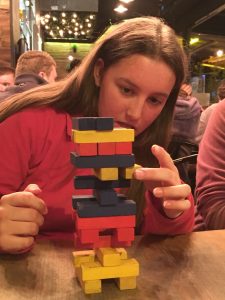 Day 11
Waking up in Quito his morning was lovely – we had bright sunshine and cool temperatures. We hopped on the bus again for a short journey up to the Telefuriqo. We already had our tickets so we were straight on almost the very first cable car of the day.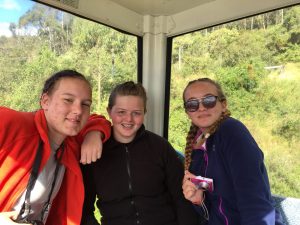 Dean faced his fear of heights and kept up is spirits as we climbed high above he trees. Once we were all reunited at the top we were astounded by the view and spent some time taking lots of photos, then we set off for a short walk.
We soon noticed the 4050m altitude and made sure our pace was super steady. Yasmina told us all about the health of the horses we saw and we all made sure to avoid their back legs as we walked past. The views over Quito and up into the mountains were truly spectacular and really got us excited about our forthcoming travel into the mountains.

Once we had come down from the Teleferiqo we came back to the hotel to smarten up ready for our visit to the British Embassy in Quito. The Embassy officials were ready to meet us and we felt very grand as we were shown around, and even into the Ambassadors office!!! We were then treated to tea and biscuits, Rebecca and Matthew W did a fanatic speech and presentation to the Embassy staff and Team JoLt- well done both.
Next up was a spot of souvenir shopping at the local craft market – a range of gifts from football shirts to llama wool blankets were bought, hopefully it will all fit into our luggage. The JoLters were then super excited to hear they were being treated to take out pizza and ice cream for supper! What a luxury. Tomorrow we head off into the mountains to visit a small community and trek in the Cotopaxi National Park.
Day 12 – Quito to Cordtuch
Today we set off on phase two of our journey and headed up into the mountains to join the Cordtuch Community.
On route we stopped at the local museum to learn about the role of the llama in local culture and religion. It was really interesting to see how the llama is such an important to resource for food, wool traditional medicines and local faiths.We were then treated to a lovely walk through the fields, Yas and Eli particular enjoyed leading the llama on our walk.
We saw aloe vera and quinoa growing and were shown which plants make the most comfortable bedding! We were lucky enough to catch our first proper view of the volcanoes as well.
We then headed up to the Cordtuch Community where the local women's group showed us how to shear a sheep and then turn the wool into clothing. We all tried our hand at the shearing, spinning and knitting -Thea showed off her excellent sheep hairdressing skills.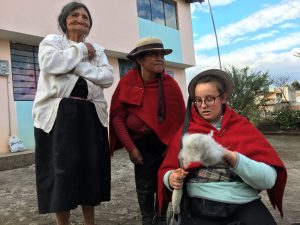 We learnt (and tried on) the traditional dress – the white hat worn by the women signifies the volcano. After all this we were treated to a folk song sung by the women, and then they asked Katie to join them for a dance! Well done Katie for going for it.
Next up was finding our accommodation for the next few days – we were soon all cosy by the fire and eating our evening meal, ready for a good nights sleep ready for tomorrow's adventures.
Day 13
Waking up in the mountains this morning was truly spectacular, if a little chilly! This didn't deter the JoLters though and we were soon up and ready to go.
First stop was the local school to give our gifts to the children which were gratefully received. We then headed to the community hall and got stuck first into sanding and then painting. Everyone did really well and got a lot done in a short time. Ella was queen sander, whilst Dean and Dan did an excellent job making sure the edges were neat.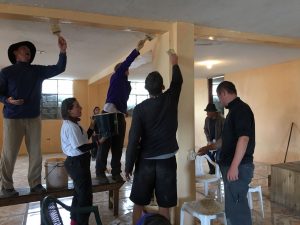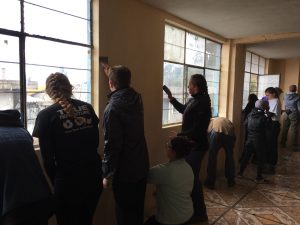 By the end of the morning we were all really pleased with our efforts, and we had all enjoyed contributing to a job that needed doing for the community who had welcomed us so warmly.

Our days activities didn't end here though. After a quick clean up and lunch we had trees to plant back at our accommodation, followed by a high altitude game of limb ball.
We then met the local children's football team for JOLT 2018 Vs Ecuador Juniors!!! A fantastic time was had by all, Thea and Ella showed us their football skills and Matthew O'L made some excellent moves. Dan and Conor kept the team going by running up and down the pitch at great speed, despite the altitude. Well done everyone in a great match.
Day 14 Cordtuch to Chimborazo
Today we left the Cordtuch community and headed deeper into the mountains. Our first stop was a new high altitude destination at the Chimborazo refuge. We took a short walk up to the monument for a photo, but our views were limited by the giant cloud we were in! Our spirits were high as we made our goal. Mollie did a great job without her chair and we all noticed our lungs working a bit harder at altitude.
It was then back in the bus for an unexpectedly long bus journey along bumpy country roads. The view out of the window was awesome as we got further into Cotopaxi National Park.
When we eventually arrived at our campsite we only had an hour before it got dark so it was all hands on deck to get the tents pitched. Ella, Anakin, Chantelle and Abi we're tent experts. As darkness fell all the tents were up and we tucked into a gorgeous dinner with our mountain guides. We all wanted an early night to be ready for our first mountain trek.
Day 15
We were up bright and early after our first night in tents. Our guides even prepared us each a bowl of warm water to wash in and brought it to the tents – what luxury!
We all made sure we had plenty of warm layers for the mountains….which we duly spent the day peeling off as it got hotter and hotter! We trekked up beside a beautiful river towards a stunning waterfall. There were plenty of obstacles on the way to navigate the chair over- well done Charlie as wheelchair pilot.

Once at the waterfall we all took the opportunity to sunbathe in such an amazing spot. A few brave Jolters took a plunge into the freezing cold pool beneath the waterfall- well done Katie, Dean, Conor, Abi, Ella and Anakin. We then tucked into our huge packed lunches – 2 sandwiches each, plus fruit and snacks!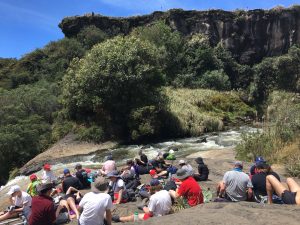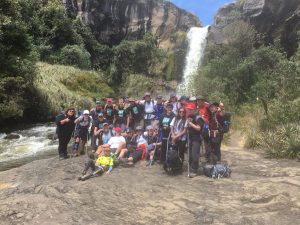 Once back at our camp we played some great ball games, including a new one named 'Wrecking Ball' by Rebecca. The final funny moment of the day was when we watched a huge llama chase a cow across the campsite – nobody expected that to happen!!!
Day 16 by Eli and Dan
Today was our last day camping and we were keen to make the best of it. After breakfast and kit checks we piled into our bus and headed off deep into the mountains for a trek at a slightly higher altitude – 4,800 metres! The bus dropped us off at the end of the road and then we had a nail biting 4×4 ride up to the start of the trek. Eli loved it and Matthew W even got to ride on the back running board with Ali! While waiting for the 4×4 Abi and Rebecca made friends with a calf and even let it suck their fingers!

Once we were all reunited we set off on our trek. Everyone worked really well together which kept our spirits high. We trekked up to a viewpoint where we could see across the mountain ridges and right down into Quito! Truly amazing.
We arrived back at the camp for mid afternoon and next up was some games and then a fantastic camp fire as the sun went down. We all had a good sing song and toasted lots of marshmallows on the fire.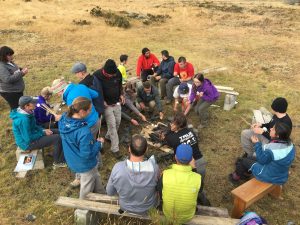 Day 17
Everybody got up super early to get our camp packed up- the JoLters did an amazing job getting all the wet tents down and packed before 6:30am! Then it was all aboard our bus and off down the windy country roads to the Cotopaxi Volcano.
We started our trek from the car park – you could see the Cotopaxi Mountain refuge so we knew where our goal was. At first we walked up a scree slope which was tough going but working all together we managed it. Once on the zig zag paths we found our rhythm and the going got a little easier. But there was no time to get complacent because then we had a snow shower! We were all amazed to be in a snow shower, near the equator, on a volcano!!!
Everyone did really well and we were well prepared with warm layers and waterproofs. The team all made it to the Cotopaxi Mountain Refuge to be welcomed with hot chocolate. We were super proud of ourselves – getting to the top was our toughest and best Jolt challenge yet.
After refuelling and warming up several Jolters bought a souvenir buff or badge to remember their achievement by. Our walk down the mountain was really fast and we all enjoyed scooting down the scree! It was an amazing day.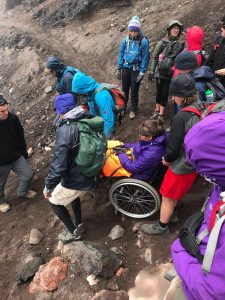 Day 18
Today was a big travel day. We left our mountain hostel early this morning to drive across Ecuador to our coastal base – Puerto Lopez to start the next phase of our adventures.
We kept ourselves entertained by catching up on some sleep, reading and best of all having an epic singalong. After 11 hours travelling we were glad to get off the coach and head for some quick dinner before bed. Our hostel is lovely with little huts to sleep in right beside the beach which is awesome.
Looking forward to seeing Puerto Lopez in daylight tomorrow and heading out to see the marine wildlife.
Day 19 by Matthew W and Anakin
Today was our first full day at the sea. We had a lovely breakfast looking right out to sea and across the beach. First up was a whale watching boat trip across to Isle del Plata. We spent a lot of time watching the whales as they played in the water, they came right up close – their size was truly amazing. It was like we were in a David Attenborough documentary!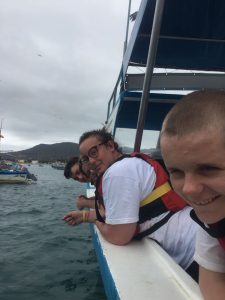 Once on the island both groups went for a walk in search of blue footed boobies! We watched them in their nests and even saw the babies being fed.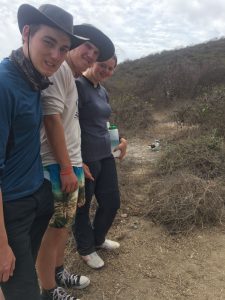 Then it was back on the boat for lunch and for our first go at snorkelling. The fish we saw were amazing, Ali and Matthew W even saw some rays!
We all enjoyed jumping and diving off the boat. A fantastic day!
The sun was setting over the sea as we arrived back into Puerto Lopez – it was truly spectacular.
Day 20 by Mollie
We hopped back on to the bus today for a quick ten minute journey to our conservation project – a not for profit organisation. We learnt about the work they do to look after turtles. We split into 2 groups.
Pelican group had the opportunity to tag turtles. We got on the boat and set off to find find our first turtle. We used fish as bait but pelicans kept trying to eat it and we had to fight to out of their mouths!
Luckily a turtle was swimming around the boat and our guide quickly dived in to get it out.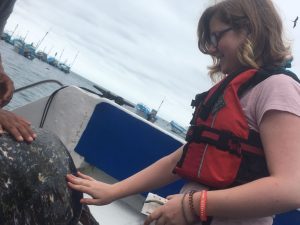 The turtles strength was really impressive. Matt O'L was first up to feel the shell and skin of the turtle. Then we watched how the guide tagged the turtle and measured its shell. Once this was all done we let the turtle go safely back into the sea.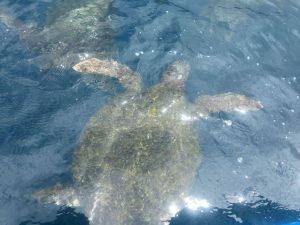 We then continued on to a small island where we all jumped into the sea and snorkelled to try and find some more turtles. We had a good time jumping and swimming in the sea, we saw a lot of amazing fish… but no turtles this time.
Meanwhile Turtle group headed to a new beach where we searched for turtle tracks and found a nest. Then we headed up to a view point where we watched the whales and saw the amazing view. Once back at the hostel all the Turtles had a swim and play in the sea.
Our groups were united for dinner and we went out to a local seafood where we swapped rice for chips as treat!!!
Day 21 Puerto Lopez
Today was another fabulous day by the coast as we swapped over yesterday's activities this morning. First up we all headed off to the fish market – Dan spotted some possible shark heads and we were all amazed by the size of the sword fish! If was really interesting to see the fisherman arrive in their boats and watch them bartering the best price for their catch as they brought it to shore. You could buy a whole tuna for $10!
One group then headed to another beach where we enjoyed a paddle and squishing our toes in the soft sand, followed by spelling JOLT on the beach and the best banana bread.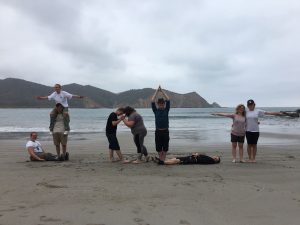 The other group headed out on the boat to try their luck with the turtles. They found one and saw how it was tagged and measured.
In the afternoon it was back to our favourite beach spot where we all played games on the beach or in the sea.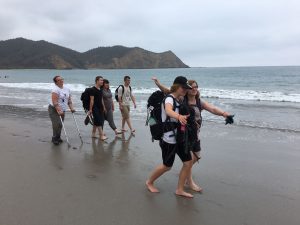 Mollie and Thea were first in the kayak and then first to capsize and Eli managed a mega surf into the beach. Anakin and Katie had a great time on the paddle board, even managing to stand up for a few seconds!
We all and a great time and treated ourselves to an ice cream as well! Looking forward to some souvenir shopping and beach yoga tomorrow.
Day 22 Puerto Lopez to Guayaquil
This morning saw a very early start for some of the jolters braved an early morning swim – it was pretty warm considering the time of day!
We then met our yoga guru Diana on the beach. We had a great session learning all the different moves and stretches, and finished up with some trust exercises – well done everyone for running across the beach unguided with your eyes close! And we had a very peaceful paddle in the sea.
Then, after a quick picnic lunch the Jolters headed to the shops to find some seaside bargains to take home. We then climbed aboard our bus again to head to Guayaquil in readiness for our flight to the Galapagos the next day!!!
Day 23 Guayagil to the Galápagos Islands!!!!
We were up mega early today to catch our flight to the Galapagos and had our breakfast on the coach.
It took a while to get checked in at the airport and had to stand in so many different queues for no apparent reason.
Once through security the Jolters headed to the shop and treated themselves to some pick and mix…. and the leaders made for a morning coffee! Our flight was delayed by a few hours but Dean kept us entertained with his blue footed booby and crab dances. He even managed to get a member of the public to join in.
We arrived in the Galápagos and hopped straight on an airport bus and then a water taxi to our island Santa Cruz. First stop was a farm in the highlands where we saw so many giant tortoises – they were amazing! We even met a tortoise called Pedro who stood up for us when the guide asked him to.
Several of the JoLters had a turn inside a tortoise shell to finding out what life is like as a tortoise.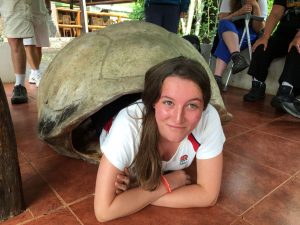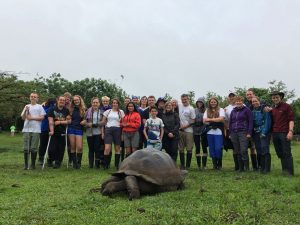 We arrived at our hostel and went to an awesome restaurant overlooking the harbour for a dinner of fresh fish! We can't wait for tomorrow.
Day 24
Ready for a cracker of a day we were up at 5:45 and enjoyed a yummy brekkie before setting off for the Charles Darwin centre to learn about the breeding programme for giant tortoises and iguanas. We also got the chance to meet the famous lonesome George (who was the last of his species and died 4 years ago) and see how determined the locals are to preserve the remaining species for future generations.
Next we split into 2 groups the iguanas and the sea lions, ready for our first snorkelling on the Galapagos…the famous and beautiful Tortuga bay. Landing on the beach we took a short walk to visit a little sheltered cove with some young sharks and back on the boat we headed back to the harbour and enjoyed a lunch of fish soup and tuna…we couldn't quite resist getting back in the boats for a further snorkel seeing some incredible fish including parrot fish and sturgeon – Matt O'L was surprised as one swam right past his goggles close enough to see! Everyone did really well with their snorkels – we're getting the hang of it now.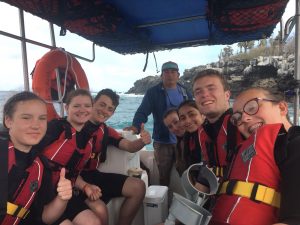 After our final snorkel of the day it was back to the pier and a quick dash to the hostel to get showered and dry. We then took or spending money to the shops to see what gifts and souvenirs we could find. We all had a great time looking through all the different toy Blue Footed Boobys and turtles.
Our dinner was beautiful fresh fish and we were joined by several very noisy sea lions who were swimming in the harbour next to the restaurant!
Day 25
We see up ready and excited for 6:15 today for an epic final full day on the Galapagos. We had our swimmers and wetsuits ready (if a bit damp from yesterday!) and we were off straight after breakfast down to the pier and aboard our three different boats for the day. We were in three groups Hammerhead Sharks, Tiger Sharks, Black Tips Sharks for the days activities.
The boats were amazingly fast and we skimmed over the water towards he smaller island of Santa Fe with Isha and Seren especially enjoying all the big waves. Once at Santa Fe we skirted along the cliffs to watch the gulls and blue footed boobys. It was then over to our first snorkel of the day, we couldn't wait to jump in and when we did it was simply amazing. It was like another world beneath the waves! Katie even jumped right into Claire's arms when saw a shark swim right beneath her!
At the second snorkel Conor and Isha followed a swimming giant turtle for ages – the way it moved was so peaceful. Eventually though we had to drag ourselves away when the Captain of the boat told us it was time to go; back onboard the boat we were served a super tasty lunch of fresh tuna!
Each group also visited a stunning beach which was named Paradise Beach by the Jolters. Yasmina and Matthew W watched the marine iguanas coming in and out of the sea as they went off to feed. It was amazing.
We were all reunited back at the hostel and couldn't wait to tell each other about our days, we were soon all comparing notes on the wildlife we had spotted.
And we still had another treat to come – for dinner we headed in pairs and fours to buy our own dinner, we all had a great time working out which restaurant on the street to pick and negotiating the best value for money! All the JoLters ended up waiting for the leaders though who had an enormous seafood platter to share!
We finished up our fantastic day with a trip to the ice cream parlour where we tried all sorts of exotic flavours. What an amazing day!
Day 26-28
A long journey home started with a flight from the wonderful Galapagos to Quito. Our plans for an evening dinner had to be rearranged to a lunch on the following day and then it was off to the airport for a new adventure! Our flight from Quito was delayed by 4 hours so we had to run from one gate to the next in Bogota to catch our plane – they had held it for us for an hour! All safely aboard we were soon on our way to London and a great welcome home!
More pictures will follow when we have had a bit of a rest! Huge thank you to all the leaders and True Adventure for making this such a great success. Looking forward to the reunion in October.