The team carry a satellite tracker with them and you can follow their progress by clicking on the Jolt 2016 – Satellite Tracker link.
Day 1 and 2

Hello from Singapore!
After an early start on Saturday morning, we were all eager to board the plane and begin our adventure!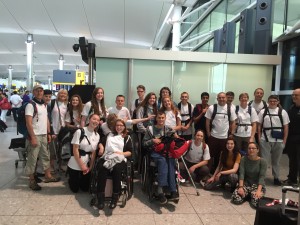 The flight started with a new JoLT record from Tyler of the number of hot towels balanced on his head, and after many films and our first taste of Singaporean cuisine, ended with much excitement all round as we landed in Asia!
We had a little time to relax in our hostel before zipping off for a trek to see the wildlife in a nature reserve around a local reservoir. There were great efforts by all the JoLTers with challenging ground underfoot, including Sophie amazing us by walking far further than she ever has before! Ali, Siobhan and Nicole also showed great bravery in the face of threatened monkey attacks!
Please click here for a short video! Video
We returned to our hostel for a well-deserved shower and delicious dinner of Singapore noodles. Our first attempts with chopsticks had varying success!! An early night was definitely due, ready for an 0345 start tomorrow – off to Indonesia we go!
Day 3
In an impressive show of organisation and resilience before 4 o'clock in the morning, the JoLTers were up, breakfasted and raring to go in record time! We headed to Changi airport and waved our goodbyes after our brief adventures in Singapore… Excited for the next country!
The countryside of Indonesia as we travelled from the airport in Medan to our base in Bukit Lawang was stunning, and we couldn't believe our eyes at how many people the Indonesian locals managed to fit onto the back of their motorbikes!
We spent the afternoon playing down by the river, with games, paddling and even building of a new dam! After our first tastes of the spices in store for us with Indonesian food at dinner, we had our first JoLT daily awards. Stefan was awarded the bright-green hat of the 'worker-ant of the day' for his ongoing helpfulness, especially in excellently supporting his room-mate overnight without  being asked. The 'spectacle of the day' was awarded to the whole group for their unbelievable efforts in the earliest hours of this morning, with close competition from Morgan for absolute cool-ness in completely shrugging off Buzza's attempts to annihilate him with a rugby ball!
We can't wait for what tomorrow has in store!
Day 4
Today we were treated to a lie-in until 6am! We had our first experience of noodles-for-breakfast, and, fuelled up, set off for our first real team challenge… A stunning effort from absolutely everyone to get deep into the forest and see original orange orangutans!
Team 'long tail monkeys' took the lead with solid contributions from Energetic Emily and Smiling Sophie, closely followed by team 'orangutans', with Cody and Julian coping remarkably well with a monkey giving the team a 'shower' from above! Team 'tigers' enjoyed Carlo's flying superman impression, ably supported by Tyler and Sinead over hundreds of rocks and tree roots, and Josh demonstrating devilish dogmatic determination!
Our reward for successful completion of the 6 hour trek was a ride back down the river on rafts made of inflatable tubes bobbing down the rapids… Very serene until Nicole's raft went over a raft and promptly went 'pop'!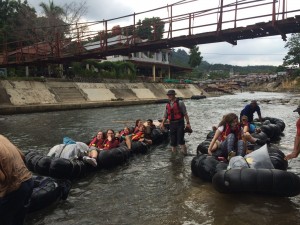 Buzza (a veteran of many JoLT trips) commented that today was one of the toughest challenges on a JoLT trip without one single grumpy person !
Please click here for a Video
Day 5
In true JoLT style we were on the road by 6 where most of the team fell back to sleep. Revived after breakfast in a palm tree plantation, we journeyed onward through Northern Sumatra, accompanied by some stunning karaoke from Josh and spotting some more unusual street stalls and rubber plantations. We finally arrived at our resting place for the night- on the shores of Lake Tobo. We were all glad to get off and stretch our legs to look at the beautiful (if a little rainy!) view before heading to a local restaurant for dinner.
Day 6
The boldest JoLTers embraced the waters of Lake Tobo for a pre-breakfast dip, including impressive synchronised swimming efforts from Ben, Tyler, Ali, Abigail, Morgan and Carlo.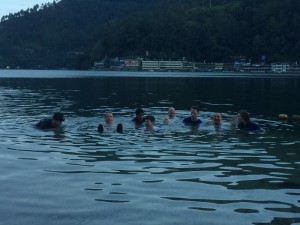 After breakfasting we hit the road again, this time treated to glorious sunshine revealing the paddy fields and small towns we drove through. After a very enthusiastic morning of singalongs, we were treated to a fantastic afternoon quiz courtesy of Josh, and before we knew it we had arrived at our next stop of the trip in Padang Sidempuan.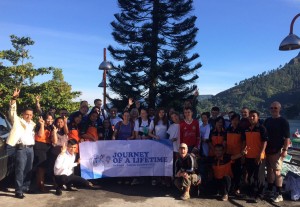 We had a little time to relax in the gardens, and did some preparation for our upcoming schools visit and performance, with Chrissie, Nicole and Angel showing inspiring creative efforts. Dinner of local curry, fried fish, chicken, and even chips was gratefully received – and concluded with Emily braving – and enjoying – her first slice of fresh pineapple!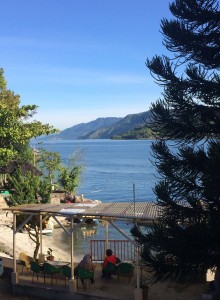 Day 7
Our journey to Bukittinggi was broken up by a wonderful stop-off for lunch at the 'panorama' restaurant. The views as we ate were stunning, looking out over paddy fields including local women working on the land.
Continuing on to the equator, we stopped off to straddle the two hemispheres and see the local attractions. We look forward to seeing which way water goes down the plug hole next time we have a bath! After arriving in Bukittingi in the early evening, we had dinner which excitingly included options other than rice and noodles… Ben pushed his tastebuds this evening with trials of watermelon and pineapple – both very well received!
Julian was awarded the spectacle of the day for being a big hit with the local paparazzi at the equator!
Day 8
This morning we travelled to a small rice-farming village in the Harau Valley. On arrival we were all adorned with fern crowns which provided great shade from the baking sun as well as making us feel very grand! The views were stunning as we walked through the fields, with our guide explaining the traditional farming methods used and showing us many plants they grew including chillis, aubergines, tomatos and onions. We even had the chance to taste raw cacao beans – the base for chocolate – but it didn't taste much like dairy milk!
When we arrived in the main part of the village, a feast of local specialties awaited us, including banana cake, tasty wraps similar to spring rolls, and fresh coconuts for us to drink their milk with a straw! We were then able to experience both planting and harvesting rice, knee-deep and in the paddy fields… Much to the amusement of the local people and the onlooking water buffalo!
After a delicious lunch of jack-fruit curry, we headed to a nearby river and set off down the river on traditional bamboo-rafts. The beautiful scenery made for a serene trip until Buzza made a leap for an adjacent raft and, with shrieks of surprise from the local woman controlling the raft, they were underwater before they knew it! Within minutes the whole JoLT crew was in the river. Julian and Sophie were skilled splashers of fellow JoLTers from their rubber rings, and we thought we had lost Morgan at one point as he has three of the rings stacked over his torso! We piled back onto our rafts for a race back to the shore before heading to our hotel.
Rowan was awarded a high commendation in the spectacle of the day award, after a fantastic slip-and-slide in the paddy fields; Ali was also in the running for falling into the water almost immediately after boarding his raft. The final accolade went, however, to Sinead for falling between planks in the bamboo raft-racing final!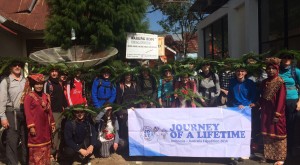 Day 9
Another big lie-in saw us stay in bed until 0630! After breakfast we headed to Lobang Jepang (Japanese caves). Here we were treated to a fascinating tour and learned how the cave complex was used during the WW2 for ammunition storage by the Japanese troops, with Indonesian people employed as forced labour.
After lunch, we were treated to a traditional Indonesian horse-and-carriage ride up to the main town, which was great fun. We then had time to do some shopping in the local market… Nicole tried her best to buy out the stalls!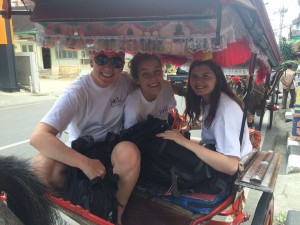 In the late afternoon we boarded the coach and headed off to Padang – having settled in and eaten we were pleased to find ourselves a 2min walk from an Internet cafe and were able to pick a few messages from home.
Day 10
Once up and breakfasted on a full spread of local food and toast, Abigail decided to be healthy and ask for some grapes off the fruit bowl, only to find they were plastic!! A short ride to the airport and we winged our way over the sea to Jakarta to be greeted by our new guide Suliman and taken direct to the British Embassy! It felt wonderful to change into smart clothes for the first time since we arrived, and to use clean, western-style toilets.
A group which coordinated dance, singing and dramatic arts for people in Jakarta with disabilities had also been invited along, and it was great to speak with them as well as with some of the dignitaries from the embassy. We were then asked to speak more formally in front of the gathered group about our journey. After Andy summarised the work of JoLT and our trip, we had a tremendous performance from Josh playing talk-show host and interviewing Abi, Morgan and Ali about their experiences so far. The team spoke fantastically, possibly careers in the media for all!
We were treated to a delicious dinner including chocolate brownies and tiramisu, and had some more time to chat amongst our new friends before having departing photographs and heading to our hotel for the night.
Day 11
We were up early for breakfast before heading to the Monus Tower, a 137m – high viewing platform in the centre of Jakarta. After going through a James Bond-style underground tunnel, we were whisked by lift up to the top on the tower. The views down over Jakarta were breathtaking, although it was remarkable to see how the smog affected the view of the skyline.
After a very bumpy journey, we arrived in the jungle and were greeted by a group of Indonesian Commandos who were to be our hosts for the rest of the day. After a lunch of classic Indonesian chicken and rice, we were shown to our campsite for later – wow! A beautiful mountainside setting for our first outdoor sleep of the trip.
We spent the afternoon on a trek through the jungle, learning about survival techniques if we were ever to find ourselves abandoned here! We learnt how to tell which leaves were safe and which were dangerous, and got to sample a number! We discovered how to source fresh water including drink if from jungle vines. And we were taught different ways to catch animals – and managed to successfully catch a rabbit in one of our traps, and then our very own Julian!
The finale of our experience was learning how to handle a snake! A real python was brought out of a bag, and with great bravery, Chrissie, Ali, Julian, Sophie and Georgia all succeeded in learning to tame the creature. We were all able to have a feel afterwards!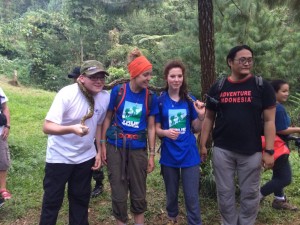 We returned to camp for dinner… shortly delayed by leader Al being tackled to the ground by all the JoLTers; Rowan sat atop the pyramid with glee at their revenge for all Al's bad jokes over the past couple of weeks!
After a delicious dinner, we sat around the campfire and did our awards for the day. Abi was awarded the worker-ant hat for her unending positivity and energy throughout the trip, Julian was awarded the star of the day for getting thoroughly involved in all the jungle challenges, and Emily won the spectacle of the day award for a plethora of funny moments during a prolonged attempt to push Josh up a hill in his chair!
We whiled away the rest of the evening singing in front of a camp fire, and watching a thunderstorm roll up the hill towards us. We took the opportunity of the rain shower to practice our 'disabled elephant' for our primary schools performance – complete with wheelchair parts and blue ponchos.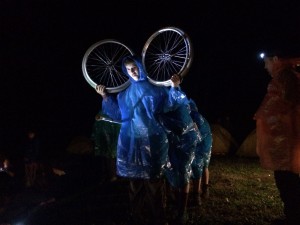 We were even treated to a pre-bed snack of chicken cooked on the bonfire, before the rain arrived and we settled into our tents to sleep, serenaded by the sounds of the jungle.
Day 12
We were treated to a lovely sunrise over the camp whilst we had our breakfast.
After finishing her meal, Sophie, thinking that she was back on the rugby pitch, launched herself down a slope and out of her chair – only to exclaim 'let's do it again!'
We made our way back down the bumpy track in 3 minibuses, and after a 4hr ride we arrived at our homestay for the next 2 nights in the town of Canjur.
After lunch we took a short ride to Canjur floating village – a beautiful lake where the locals live in small houses supported on rafts of bamboo poles and make a living from fish farming.
It was most picturesque and peaceful – at least until we arrived and disrupted the serenity with screams of delight and horror as the fish nibbled our feet clean as we dipped them in the cool waters. Amazingly unperturbed by the whole process Georgia, Stefan and Sinead managed to keep straight faces and their feet in the water without flinching – earning them a joint courageous lion award.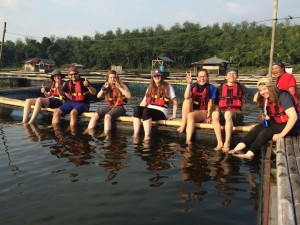 We also had the opportunity to cruise around the village in powered boats, and stop at a large cacao plantation nearby to learn more about the early stages of chocolate making. Returning to the homestay we celebrated Ali's 16th birthday with numerous renditions of Happy Birthday and a chocolate cake – every morsel devoured in record time!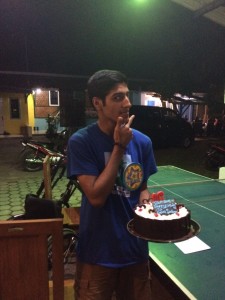 Day 13
An 0545 wake up call was well worth the effort for a simply stunning day at the local high school, all JoLTers playing their part in joining in the action. We were royally looked after from 8am to 3pm with all manner of activities.
Greeted by the whole school, it felt like a true 'red carpet' moment as we walked through a tunnel of highly excited pupils all taking photos as we passed.We were then treated to a concert of stunning traditional music, dance and martial arts, before moving in groups to classrooms to quiz and be quizzed by the older students – on everything from our favourite lessons to what we thought of Indonesian cuisine! Angel shone, demo-ing her music only to find their students enthusiastically joining in. She was awarded today's 'star of the day' for a combination of this impressive effort, and ongoing helpfulness within the group.
We then went off to a local market and to source our lunch, haggling with the best of them over all sorts of produce, before returning to the school and cooking and eating our wares off palm leaves on the ground. We even tried to make spag bol to show the Indonesian students what we might eat at home! Cody accidentally braved a large portion of what was essentially chilli puree, and was later awarded the 'spectacle of the day' award for her error and impressive faces following her mistake!
Just thinking we might relax after lunch, we were suddenly up on our feet and in a whole-school vs. JoLt dance-off! Nicole and Sinead lead the way with their impressive dancing skills and we all followed suit, developing a certain 'shine' in the hot afternoon sun!
We then learned some traditional Indonesian games, and led the way with 'British bulldog', before saying our goodbyes and heading back to camp.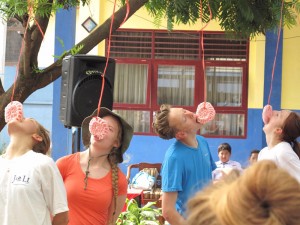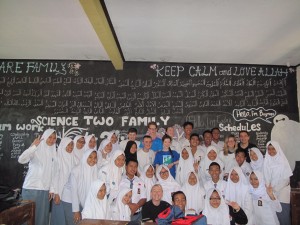 We had 'JoLt time' in the evening and talked about plans for the busy days ahead of us, before an excellent dinner – widely claimed as the group's favourite meal of the trip so far. Excited for an early night, we packed out bags ready to head off in the morning, and hit the hay.
Day 14
Up at 03.45, we were soon on the road to the railway station where we boarded our surprisingly luxurious train – it almost felt like we were back on an aeroplane as we watched films in our fully-reclining seats and had our meals brought to us! The 8 hr journey went surprisingly quickly, and before we knew it, it was time to get off in Jogyakarta. After a long '200m' walk to our coach, we journeyed to the lovely Edu hostel, complete with rooftop relaxation area and games room as well as very comfortable dormitory rooms.
All of us very warm after a long day's travel, a trip to a nearby hotel swimming pool was a wonderful treat. Following Andy's lead, we had some great acrobatics from Ben, Morgan and Nicole as they were catapulted out of the water to attempt somersaults!
We headed back to the hostel for dinner on the rooftop terrace with great views over the city. The spectacle of the day was awarded to Nicole for almost flooding her bathroom after attempting to flush the toilet with the bidet tap! Ali narrowly missed out after providing solid dinnertime entertainment with his great frustration at being unable to crack Claire's riddle game… To much relief he finally worked out the answer before we all headed to bed.
Day 15
We couldn't believe our luck with an 08.00 get-up… Although most of the group, now habituated to our JoLt routine, were up well before.
After breakfast, we set off for Borobudur, just over an hour away. After a short walk through immaculate gardens with some impressive traditional dancing to see, the stunning 9th-century Buddhist temple 'Mahayana' came into view. It was a real team effort as we climbed the numerous steps up nine stacked platforms in the baking sun. We finally reached 'Nirvana', represented by the ninth level, and certainly felt enlightened by all conquering the challenge together!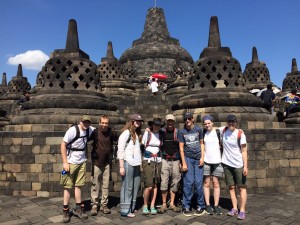 Rewarded by Magnum ice-creams as we reached the bottom, we made our way back to town for some souvenir shopping on the lively central streets of Jogyacarta, which was for a while the country's capital city.
We had a relaxed evening back in Edu hostel, with opportunity to use the Internet and games room whilst awaiting our 0100 night train – a first for most of the group!
Carlo was awarded the spectacle of the day award today for – after walking through jungles and rickety bridges without batting an eyelid – doing almost a forward flip in the car park of Mahayana temple… An unexpected pot hole caught his crutch in its grasp, leaving Carlo with a bent crutch (and bruised ego!) to battle the rest of the journey with.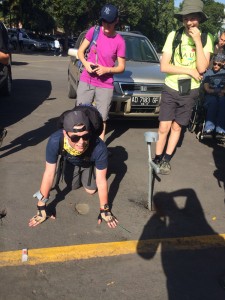 Day 16
After settling into our girls and boys 'dorms' on the night train, we did our best to catch a few hours sleep. After a pot noodle breakfast, we were off the train and heading up into the mountains!
A bumpy journey saw us arrive at Lava View Lodge, and the views down over the volcanos in the valley were indeed spectacular. After dropping bags off in our rooms and a quick lunch, we were collected by 4×4 vehicles for our next adventure! We couldn't believe the landscape as we headed down to the volcanic ash-covered lava field in the wake of Mt Bromo. After half an hour or so, we jumped out of the jeeps and onto horseback, with the rumbling volcano in front of us providing an imposing soundtrack for our journey. Rowan was later awarded the spectacle of the day award for his impressive handling of his horse when it became startled, including surviving a short 'cuddle' with it on the floor!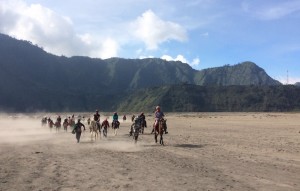 We set off across the flat, almost moon-like landscape towards the volcano, spewing out ash in front of us. The horses having taken us most of the way to Mt Bromo's crater, we were then dropped off for our next big team challenge. Between us and the view down into the crater, was an incredibly steep staircase which after recent increases in volcanic activity, was now a slippery, ash-covered uphill slope with no discernible steps at all. Never a group to shy away from such a challenge, we braced ourselves and set off. With crutches, carry seats, slings and more than a little ingenuity, the group all made it to the top.
And what an awe-inspiring experience awaited us. The roaring of Mt Bromo, and raining of ash around us, meant that the efforts to ascend were quickly forgotten.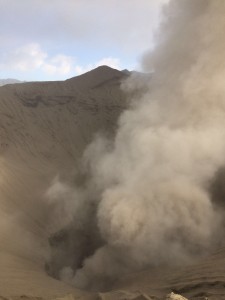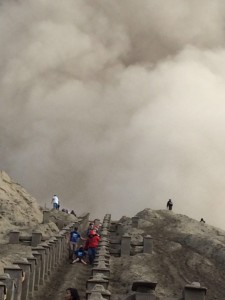 Descending the 'stairs' was a rapid affair, with Sophie, Morgan and Josh using the centre of the old staircase as a massive slide, whilst Ben and Ali raced down the adjacent slope. We re-mounted our horses, and many of the group were given the reins to race back to our waiting 4x4s.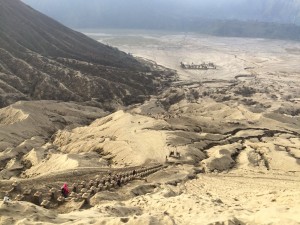 We sat down for dinner in excellent spirits after an unforgettable day. There were a number of recommendations for today's 'worker ant' award after the great displays of team-work, however Tyler was given the final verdict, and wore the hat with great style for the rest of the evening.
Day 17
A bleary-eyed JoLt was up at 02.30, and the group were remarkably cheerful as we clambered back into the Jeeps under the thick cover of darkness. We were off back to Mt Bromo to view the sunrise, joining the throng of 4×4 vehicles which made quite the impression as their headlights weaved up the mountain like a trail of ants in front and behind us.
We had a short walk to the viewing platform, and managed to set up camp to get a front-row view before the tardier tourists arrived. As we waited for sunrise, the night sky was incredible, with shooting stars a-plenty, an iridescent moon, and many constellations that we were able to pick out – although not in the parts of the sky that we would expect them back home!
We eagerly awaited the rising sun; although the clouds teased us at times, the glimpses of Mt Bromo spewing out ash in the breaks were breathtaking.
We headed back to the hotel for breakfast before hitting the road towards Bali! A 6 hr journey lead us to a short ferry crossing and we were on our next Indonesian island! Another four hours or so and all were a little tired and hungry after our long day – the prospect of another dinner of rice and noodles loomed on the horizon. It was to our great surprise then, when our vehicles rolled into Macdonalds… there were shrieks of excitement all round and near-tears from Angel!
Big Macs devoured all round, we had only a short onwards journey to our hostel for the night, where we collapsed for a well-earned night's rest.
Day 18
After breakfast in our hostel, we headed over to the Rip Curl surf school to learn how to carve up the waves of Kuta Beach. After some shore-based theory, we walked over the road to see row after row of perfect surfing waves ready for us to utilise… around 10ft high!
After doing some surf technique practice on the safety of the top of the beach (although the waves still reached us and knocked us off our surfboards on a few occasions…), we tentatively waded into the water.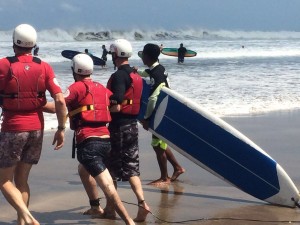 Aided by our excellent local instructors (and sticking close to the beach – the 10ft-waves perhaps being more appropriate for our second lesson!), the group were soon looking like locals. Many managed to get up to their feet, and our girls were particular pro's, with Nicole, Abi, Angel, Sinead and Georgia surely en route to the front page of 'SurfGirl' magazine next month. Josh and Morgan looked serene as they had impressive runs all the way into the shore, and Sophie touted this as one of the best days of her life after being carried 'Baywatch-style' to her chair by 3 of our hunky instructors. Carlo showed impressive coolness under pressure when, after Becky's lack of directional skills made a wipe-out seem inevitable, he simply grabbed onto her board himself and surfed all the way to the beach. Heroics from Andy saved a lost crutch from a watery departure from the group.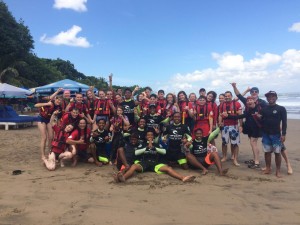 After a delicious lunch of local noodle soup, and very well-presented chicken rolls, roasted aubergine, fish sticks and tempura prawns (and rice, of course!), we headed on to our yoga lesson.
Most of us again complete novices to yoga, we contorted ourselves as best as we could, with mixed success… Stefan and Georgia impressing us all in the 'paired yoga', and Chrissie's 'walking crab' bringing up the group's average flexibility by twofold!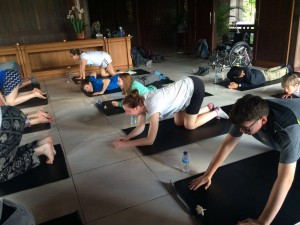 Off for dinner, an amazing 'family-style' meal awaited us, with a large number of dishes available for us to share between us all; Sinead attempted to eat a whole family's worth of chilli calamari and only her spice-based tears prevented her success. Whilst we ate, we were treated to a traditional Indonesian show, with music, dance and incredible costumes. Limbered up from the yoga, we were well-prepared when we were dragged up to the stage to join in for the last dance of the evening.
Day 19
This morning we took the short journey to the airport and hopped 90 mins along the archipelago to Labaun Bajo on the island of Flores. A mere 10 mins in the coach and we all disembarked onto 2 boats to set off for Rinca Island – on the way stopping to explore along some coral reefs and find nemo and dory! For many it was their first snorkelling experience and Rowan excelled himself in parrot fish spotting!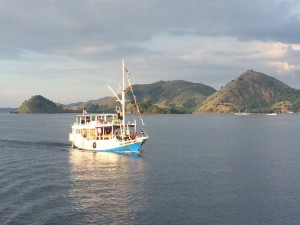 We had an absolutely blissful afternoon feeling quite fancy as we reclined on top of our boats with clear blue skies above us and equally clear blue waters below. We made our way towards Rinca Island, treated en route to an incredible sunset before stopping to watch (literally) millions of fruit bats making their way off one island and flying above us – Georgia thought it was the the most amazing thing she had ever seen.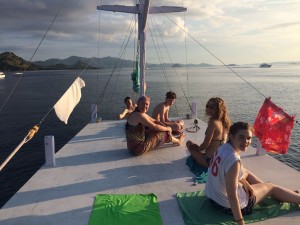 The cooks on the boat made us a delicious fresh seafood supper before we settled down on the top deck to sleep a night out under the stars.
Rising at 5:45 with the sun creeping over the trees, we were treated to bananas and pancakes for an early breakfast – fuel for our trek across the island to see the prehistoric Komodo dragons. We were closely accompanied by several rangers to ensure our safety as we crept our way along the path. We were very fortunate to see four dragons of varying ages and sizes – some beasts!

We trekked around the coast a short way for some beautiful views before heading off to our next snorkel spot. Julian did himself proud with his conquering his fears to complete his first swim in deep water – the bright tropical rush and numerous starfish seeming an apt reward for his efforts.
Our well-earned lunch included both cooked and raw tuna, caught off a line at the end of the boat during our journey – delectable! We then pulled up to another tiny secluded island, where we perfected our 'leaps' off the top of the boat into the water – stars of the show included Ben's with his 'pin drop', Ali's side splash, Sinead's front flip, Carlo and Sophie's side rolls and Morgan's belly flop – truly spectacular!
We were sad to leave the boats behind but a chance to clean up and get our land legs back was appreciated by all. We had the surprise of a Mediterranean restaurant next to our hotel for a delicious pizza before heading in for the night.
Day 21
Up at 5, we were soon on our way to Cunca Canyon, for an out-and-back jungle trek, with potential rock-jumping at the lowest point to lure us to the bottom.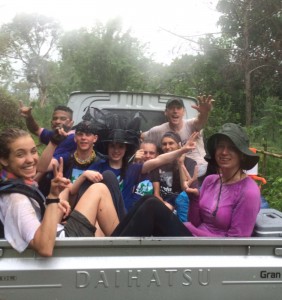 Arriving at our starting point, we realised that this was going to be a real test of our teamwork, with twisting tree roots, large rocks, impossibly steep inclines, deep streams and a billion mosquitos to stretch us on our route ahead. As the expected 2hr trek down stretched on to over five, the whole group pulled together to negotiate everyone safely to the gorge at the bottom, without any assistance from the leaders. Chrissie and Tyler were awarded the worker-ant awards of the day for their hard physical graft, and their excellent communication, as they helped Sophie and her chair safely to the end. Carlo, having lost the rubber end of one crutch in the first hour – leaving him vulnerable to slipping on the treacherous terrain – was impressive as he stormed through the jungle without a word of complaint of his equipment difficulties.
Arriving in the bottom of the canyon, we opened our Indonesian lunchboxes. To our great surprise, as well as our usual boiled rice, a fish head was staring up at us- for some, the most challenging part of the day! A few of the group (gluttons for punishment, perhaps) then set off on another short trek up to the side of a waterfall. As we peered over into the canyon 25ft below, the height was enough to challenge the steeliest of nerves. As Ben neared the edge, he wasn't sure that he could do it. But, after a mere moment of stern self-talk, we counted him down to a leap into the unknown; his whoops of glee as he bounced back up in the waters beneath confirmed his success. Abi and Nicole followed suit, cool as cucumbers, before we all floated back down the river to meet some others of our group swimming in the lower waters.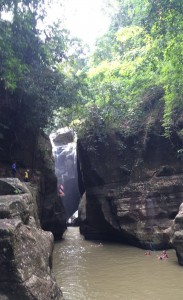 No sooner had we dried off, than the heavens opened and an incredible tropical downpour hit us. We thought back to the trail, and realised the big challenge that was now upon us – to negotiate the already perilous track in these now highly slippery conditions. Never to be downtrodden, the JoLters set off back up the gorge. Josh and Abi's renditions of Queen echoed around the jungle as we re-traced our steps, ensuring that morale remained high. As we approached the finish line, the second half of the group walked the last strides hand in hand, to the cheers of local villagers who had congregated to watch. The sense of achievement was massive as we all collapsed underneath the banana leaves that our guides had helpfully sourced for us to shelter under – perhaps a little too late!
After a steamy coach ride home, we were all grateful for a shower and a hearty meal before turning in for the night.
Day 22
After breakfast, we had time to pack up and for our second 'one to one' sessions of the trip. Each JoLter with their allocated leader, we looked into the steps made so far to achieve the goals we set at the start of our journey, and what we can do to get the most out of the week than we have left.
Soon it was time to leave for the airport, to fly back to Bali. We were treated to acrobatics from Morgan as he rolled seamlessly over Buzza and Julian, picking his legs up on Josh's walking frame and using it more as a rocket than a walking aid!
Following our flight, we were collected by our bus and each presented with a stunning frangipani flower garland, the lovely scent going some way to offset our jungle odour! After a short transfer from Bali airport to our hotel, funky painted buses transported us to the shops for our last opportunity for souvenirs in Indonesia.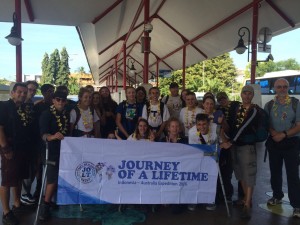 Off to dinner, we had our last taste of the rice and noodles with which we have become so well acquainted in the last 3 weeks, before heading back to our hostel for a good night's sleep.
Day 23
After a good night's sleep, we breakfasted and then split into groups to begin making plans for our upcoming end of journey concert.
Soon we were loaded into buses thinking we were heading to the airport… Only to stop off at a spa for a surprise massage! For many of their group it was their first experience of a massage. After having our sore muscles soothed into submission, we felt as though we floated as we returned to our buses.
At Bali airport, we had to say an emotional goodbye to Mel D and the rest of the Adventure Indonesia team, who had been such wonderful in-country hosts throughout our time in Indonesia. They had, incredibly kindly, had T-shirts made especially for us with orangutan facts, to commemorate our first big challenge of the trip – trekking to see the great creatures whilst in Bukit Luwang. We posed in our new attire for a team photograph before saying our heartfelt thanks and presenting the team with their own JoLt T-shirts to remember us by.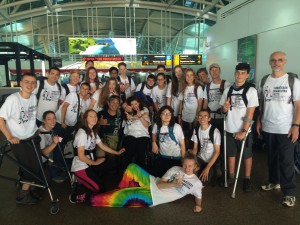 We were soon through passport control and waved our goodbyes to Indonesia – ready to embrace our next continent! After less than 3 hrs, we were on the ground in Australia. It was wonderful to feel the dry heat after the humidity of Indonesia that we had grown accustomed to.
Saying "G'day" to our new Aussie guide, we boarded the coach for a short journey to our hostel. After a welcome dinner with no grain of rice in sight, we turned in for bed, excited to explore in the morning.
Day 24
Waking up in our hostel, we couldn't believe our noses as the smell of frying bacon wafted in. We sat outside in the beautiful Aussie morning sunshine, and devoured our first cooked breakfast of the trip in record time.
Soon we were collected by our new guides from WayOutback and piled into our minibus to head South. Our first stop was in an Aboriginal community, where we were given a traditional water-blessing before being permitted to continue on their land. We learned from the community's senior elder and his 16 year old daughter, about their traditions and way of life – many aspects unchanged for centuries. The male leaders were particularly pleased to hear that Aboriginal men are permitted to have as many wives as they wish, but are not allowed to speak to their mother-in-laws!
We were treated to a delicious snack of dampa bread, made from a local plant, tasting similar to a scone and served with golden syrup. We tried our hand at didgeridoo playing – which seemed to be based on blowing raspberries down the wooden tube – and spear throwing. Rowan managed to spike a pig!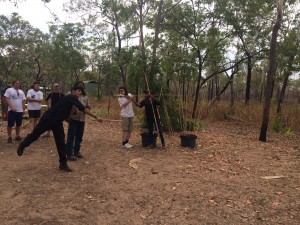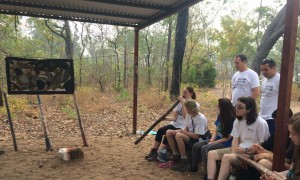 On to our next stop, we learned about pythons and were able to handle a 'children's Python' – so called as it is safe for even young children to play with. We then experienced our first real Australian Barbie, with delicious burgers, as we relaxed underneath an enormous fig tree.
Back on the bus, we soon arrived at a crystal clear lagoon filled by two sparkling waterfalls. After a short walk, we jumped into the blue waters, swimming underneath the waterfalls and being able to touch into a 360 degree rainbow created by the falling waters in the sunshine. We dragged ourselves out to complete our journey to Mr Bundy campsite where we would rest for the night.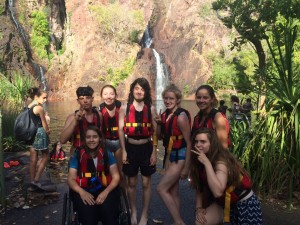 We loaded off the bus and laughed as we learned that our dinner for the night would be our staple of the last 3 weeks in Indonesia, rice and chicken… After some raucous games of Dobble, Uno and Pigs, we settled down for the night. The girls were in tents, whilst the boys had their opportunity to sleep out in 'swag bags' under the starry outback sky. The sounds of Wallabies jumping around us was a fitting soundtrack as we drifted off.
Day 25
After a deep slumber under the stars, we ate breakfast surrounded by wild horses, bouncing wallabies and parading peacocks. After comparing stories of the amount of wildlife seen en route to the toilet block in the night, we packed up camp to hit the road again.
We journeyed on a long trail down dusty tracks; it was barely believable that large parts of it become flooded during the rainy season. Our guide Leigh entertained us with information on the local landscape as we ploughed through it under Australian Winter's baking blue skies.
We stopped for lunch at a local relaxation spot, eating lunch under the trees before spending the afternoon relaxing and swimming in a stunning green lagoon.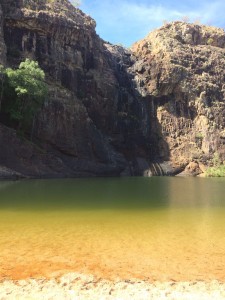 We drove on to our campsite for the evening and had some very welcome hot showers before settling into our 9-man tents. Delicious bolognese and hot chocolate filled us up ready for bed.
After breakfast, we hit the road on our way to Arnhem Land. This is Aboriginal land, which requires a special permit to enter. We felt very privileged to be able to go, as many Australians – including our tour guide – never get the opportunity.
We were taken to a local school, and learned of their efforts to use modern educational methods whilst embracing traditional aboriginal culture. We had chance to attend assembly with them and go to some of their school classes. Josh, Sinead, Georgia, Abi and Sophie even managed to share a game of mixed wheelchair/able bodied basketball with some of the girls from senior school.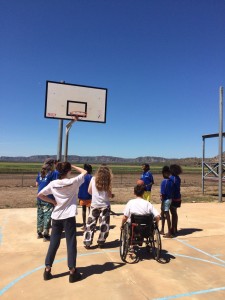 We also were able to try some new flavours at lunchtime, with the school chef having prepared us all a lunch of buffalo meatloaf and mashed potato – delicious. In the afternoon we had chance to visit a local arts centre and see Aboriginal paintings and intricate baskets being created in front of us.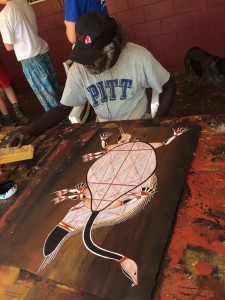 The onwards journey was broken by a stop to see some crocs and to change a tyre – no mean feat in the hot Northern Territory sunshine.
Arriving at our campsite, we had some time to relax by the pool and cool off. A pre-dinner game of human pin ball was hotly contested, but no side came out as a clear winner or loser… Except possibly Joshua's nose! The meal itself was fantastic, with more steak, sausages and accompaniments than we could eat. Toasting marshmallows around an impressive campfire was the icing on the cake.
This was to be our last night of camping, and it was the girls' chance to sleep out in swag bags. They were treated to another starlit sky as they settled down to sleep.
After breakfast we jumped onto our truck for a morning 'rock the bus' rave before setting off towards Darwin.
At a routine toilet stop en route, we were surprised to stumble upon a crocodile feeding show. We looked on in awe as a whole chicken, feathers and all, vanished into the croc with a single crunch.
Soon we arrived at the pier and loaded onto our boat for a 'spectacular jumping crocodile' cruise. The crocodiles have learned to jump out out of the water for food, and the massive creatures made quite the impression as they rose mightily from the water, jaws open, right next to our glass windows.
Onwards to Darwin, we had time for some last-minute souvenir shopping and to see a little of the city centre. We then headed to 'Crocosaurus Cove' and were able to feed the baby crocs with large fishing rods, as well as hold a blue-tongued lizard, touch a baby saltwater crocodile and wear a python around our necks. Georgia, Sophie, Josh and Rowan were then treated to feeding the enormous 'Brutus' from the film Crocodile Dundee.
From the cove, we headed to the luxury of the Vibe waterfront hotel and felt like quite the VIPs as we waltzed into the swanky lobby. We relished our power-showers and the opportunity to dress up ready for our last night together.
Arriving in our private dining room, we were greeted with crocodile bruschetta canapés and a glass of champagne. An exquisite 3-course meal followed, with salads, fish, chicken and numerous accompaniments to ensure that we were all very full! We reminisced about the events of the past month, and celebrated all that we have achieved.
Following dinner was the highly anticipated end-of-journey concert. Josh kicked off proceedings with a hilarious medley of songs from the trip, culminating in a eardrum-shattering Kate Bush impression. Every JoLter took to the stage in a series of impressive, and highly amusing performances. Even the JoLt leaders took the opportunity to make fools of themselves…which wasn't difficult!
It was a fantastic evening, and we all felt quite emotional as the curtains closed. What a month it has been!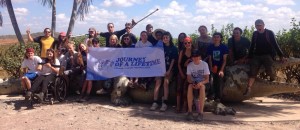 Day 28
Breakfast was a real treat this morning, with a comprehensive buffet in the hotel to fill us up ready for the upcoming journey home. Whilst our stomachs settled, we met for our JoLt prize giving, and were all awarded certificates for memorable achievements during our journey.
After packing up our things, we headed over to the wave pool opposite the hotel and spent an hour attempting to surf on body boards and bobbing around in rubber rings.
After enjoying our last minutes of Australian sunshine, we were collected and transported to Darwin airport for our first flight, to Singapore. A stopover there gave us time for our final 'one to one' meetings and to think about returning to life back in the UK. We also enjoyed our $20 dinner challenge, with impressive calorie counts from most of the group!
At 2330 we loaded onto our final flight into London, and waved our sad goodbyes to the lands that had given us so much excitement over the past month.